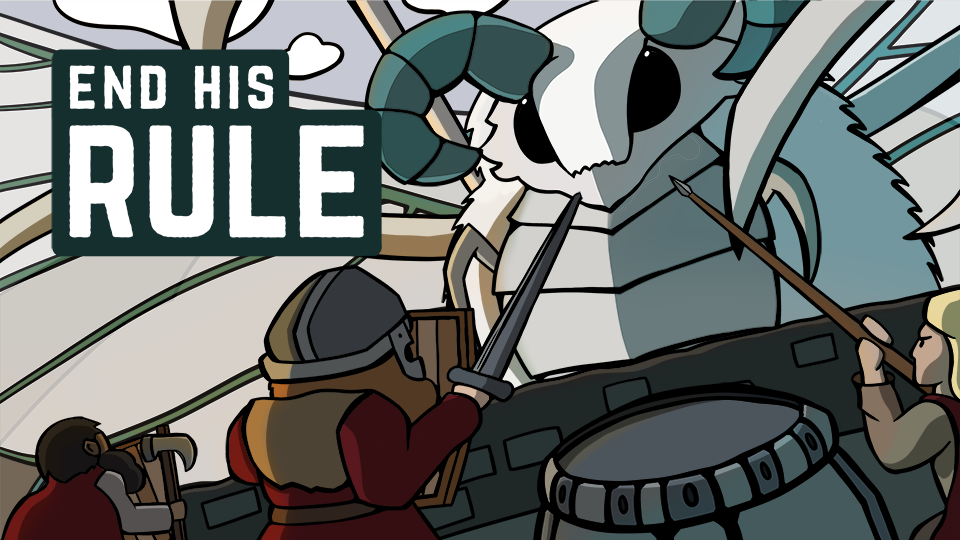 End His Rule
A downloadable game for Windows
End His Rule
"Eyes dark as night slowly turned towards him. A sickening crunch could be heard from high up above, somewhere near its head. It came from the Moth. That's when he saw him. Hadgar. Oh gods no, not Hadgar."
"End His Rule" is a Strategy/Management game where you're given the mission to claim the lands of the beast known as Angarn.
Taking up residence in an old abandoned fort, you and your rugged group of people need to produce enough equipment and weaponry in order to take your first steps towards slaying the bestial lord once and for all.
Very Early Access - Please Read
Before you read on. Note that "End His Rule" is in very early access and will be subject to many bugs, potential crashes, and an as of now very, VERY, incomplete game experience.
We are however hard at work molding the game into something less barebones and into something much more fantastic.
Balance the needs of companions
Keep your companions happy and their needs topped off in order to get the most of their production capabilities.
Tailor tools & tasks
Customize your characters' jobs and workdays in order to ensure that you get the gear you need ready in time for the next mission.

End his rule
Use your resources and equipment to go on missions in order to supply your fort. All will be needed in the struggle to come.
(NOTE: Angarn the Silken Lord is not in the game as of yet.)
Path to Greatness
Our thinking is this:
We will continue updating and improving "End His Rule" with new features, bugfixes and overall polish. Whenever you feel the game lives up to your expectations of a great game, that's the moment you'll want to give it a go.
Early support means a lot though and will greatly help and speed up the development so keep that in mind!
Purchase
In order to download this game you must purchase it at or above the minimum price of $25 USD. You will get access to the following files:
end-his-rule-windows.zip
65 MB